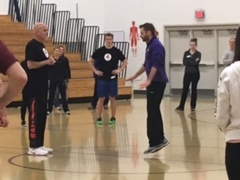 A shout out to my dear friend Gary Gray who so graciously spent time this past weekend with over 40 Marshfield Clinic physical therapists
introducing them to Applied Functional Science and 3D MAPS. Thank you Gary for your kindness, your friendship, your mentoring ,
your encouragement and your willingness to spend time in our corner of the world. For any movement specialist whether you are a physical therapist,
an occupational therapist, a strength and conditioning coach, a personal trainer, or an athletic trainer make sure to check out the Gray Institute at
www.grayinstitute.com for continuing education opportunities that will change your career.