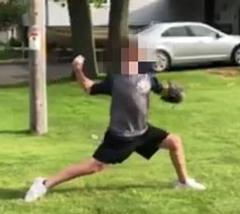 Are you a pitcher that has had UCLR and are struggling to get your velocity back or are you a pitcher that just wants to increase your velocity? Maybe you are a movement specialist that works with the training of overhead athletes…. Read on to learn more about the functional assessment and training of overhead athletes and how to increase velocity. (more info at www.tristretch.com)
UCLR pitchers can struggle with re-gaining their velocity and healthy pitchers often "hit a wall" of being able to increase their velocity. A common cause is training that does not go beyond wrist, forearm, and shoulder strengthening and range of motion.
Proper muscle activation in the throwing athlete is achieved through generation of energy from the lower extremities and core, to the distal links of the shoulder, elbow and hand. For this kinetic chain to work optimally there needs to be optimal anatomy (length and range of motion in all muscles and joints in all three planes of motion), reproducible motor patterns and sequential generation of forces. Therefore, anatomic deficits anywhere in the kinetic chain (ipsilateral and often contralateral side) such as weaknesses and/or tightness in the legs, pelvic core, thoracic spine, and scapular muscles can lead to distal injury and can be a barrier to achieving maximum velocity.
Rehabilitation and movement specialists that work with these athletes, should possess the skill set to assess the entire kinetic chain in synchrony with the unique asks of the pitching, throwing and/or overhead hitting motion and the ability to develop rehabilitation and training to optimize multi-joint, tri-planar motor patterns .
In upcoming blogs, we will uncover some of these unique assessments along with functional training specific to the pitching motion.
For more information, visit www.tristretch.com or call Tri-stretch at 715-432-3318. I would be happy to discuss functional training with you.
#kinetic chain, #pitching, #functional traning, #increase velocity