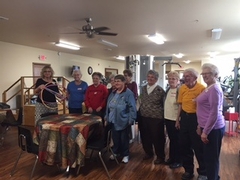 Fall prevention in our seniors is extremely important for one out of three seniors fall each year in the
United States and over 60% of those falls occur in the home. Many of these falls can be prevented with modifications to the home environment
such as removal of throw rugs, proper lighting and railings on stair ways. Additionally, the evidence shows that exercise also decreases fall risk. Many feel
balance is a magical thing that one has or doesn't. This couldn't be further from the truth. Balance is largely having the strength to control
one's body and its movement/s and "bringing it back home again". We all have a threshold of how far we can reach and return without falling and by working on
three dimensional strength, this threshold can be expanded. And therefore decreasing the risk of fall throughout daily activity.
Shout out to Lincoln County Fall Prevention Coalition who sponsored a community presentation and luncheon for over 25 community members.
I was welcomed as the key note speaker at this event earlier this week. The audience was present to learn about fall prevention and we spent the time
learning about the importance of three planes of motion in preventing falls and improving balance. We moved through numerous tri-planar exercises
which the participants can perform easily at home without equipment. Thanks also to Diane at Kindhearted Home who hosted the event at her business and
Marshfield Clinic Project Shine who co-sponsored the event. For more information or to schedule a presentation for your
group visit www.tristretch.com.