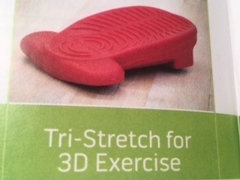 TRI-STRETCH and its unique three dimensional stretching and strengthening programs
was featured in the March Issue of LER (Lower Extremity Review). The LER is a monthly publication
with a mission of informing health care practitioners on current developments on the diagnosis, treatment and prevention
of lower extremity injuries. LER encourages a collaborative multidisciplinary clinical approach with an emphasis on functional outcomes
and evidence based medicine. To visit the online LER publication click here.
TRI-STRETCH was in the LER new product pages describing TRI-STRETCH as a portable exercise device designed to lengthen
muscles three dimensionally. The TRI-STRETCH program allows the user to stretch and strengthen in three directions--forward/backward, side to side
and rotational--with multiple joints working simultaneously replicating the demands of sport. Although the the device can be used
while performing traditional exercises to make them 3D, its unique features also facilitate hundreds of new exercises designed to take
flexibility and strength to new levels. It als can be used in rehabilitating injuries, including ankle sprainds and anterior cruciate ligament tears.
For more information visit www.tristretch.com