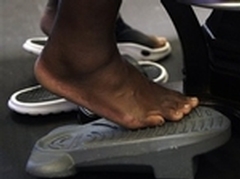 It's Super Bowl weekend and a day that I always reflect back on TRI-STRETCH® and its involvement in Super Bowl XLIV.
Dwight Freeney, the All Pro Defensive end for the Indianopolis Colts used TRI-STRETCH® to prepare for Super Bowl XLIV,
Evidenced by the picture and story in the USA Today in February 2010 taken during media day of Super Bowl week.
Freeney injured his ankle in the final minutes of the AFC championship game. He was a serious question mark for being able to play in the Super Bowl but with multiple rehab techniques including the use of TRI-STRECH® , Freeney was able to play. The picture (shown) is a close up of Freeney's foot as he is sitting at the microphone with his injured foot on a TRI-STRETCH® to mobilize his ankle three dimensionally , keeping it from getting stiff and increasing his mobility.
TRI-STRETCH® : being used by professional athletes in functional strength training and functional rehabilitation.
Get your TRI-STRETCH® today to train like the pros. Go to www.tristretch.com for more information on functional training for all sports and to order your TRI-STRETCH
#football training, #NFL, #SuperBowl, #functional training, #stretching programs, #sports training, #sports performance®